This shop has been compensated by Collective Bias, Inc. and its advertiser. All opinions are mine alone. #SkinEssentials #CollectiveBias
I'm no longer a college student but I still tend to operate on a different "year" schedule: from September to June, as if I were still in school. That means that September feels like a new year for me, and whether I'm in school or not, it always feels like the chance for a fresh start, new beginnings, and starting over. I like to turn over a new leaf by making renewed commitments to be healthy, exercise more, and take care of myself, my skin included.
For those of you who are going back to college, I bet you feel the same way—the need to start fresh. Sometimes, especially when it comes to your skin, a new beginning can simply mean some new products that can take the guesswork out of skincare. If you know me, you know that I have:
oily skin & big pores
tendency to break out in my t-zone
the need to exfoliate like CRAZY!
So, I gave three new products a try: the Neutrogena® SkinClearing Liquid Makeup, Neutrogena® SkinClearing Mineral Powder (both with salicylic acid), and the Clean & Clear® Deep Action Exfoliating Scrub. I bought all three at Target. Buy them here, by hovering over the image to reveal product links: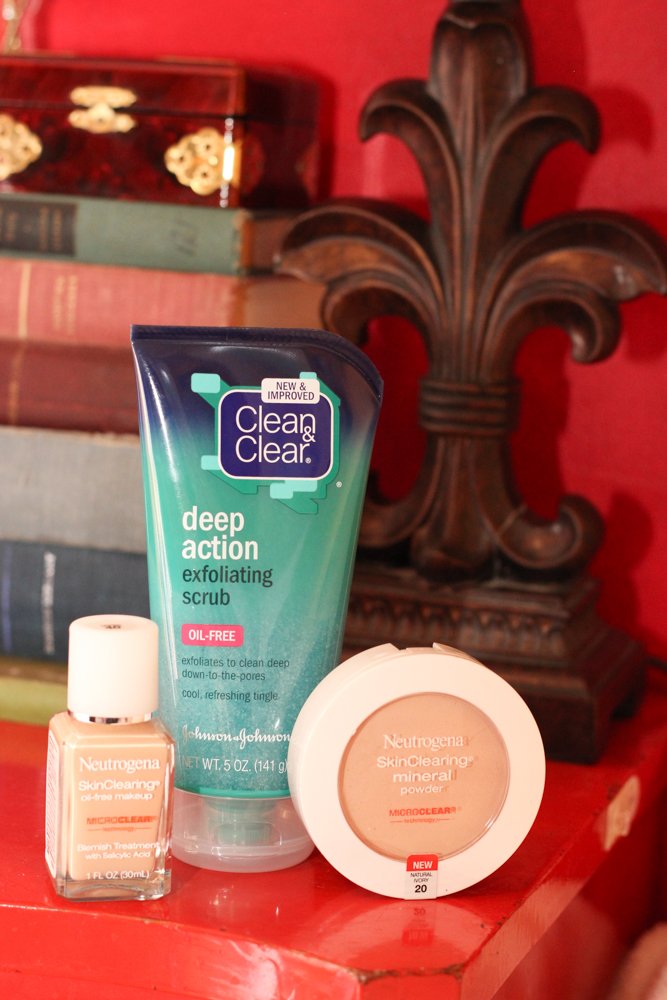 Used all together, this is a pretty foolproof formula to get clearer, healthier, and dewy skin even when the weather turns colder and you're stressed at school. I'm basically always stressed at work and it worked for me! I especially love the Neutrogena® SkinClearing products because I wear foundation every day, and it's so nice to know that I'm not damaging my skin or clogging my pores with makeup every day. It's a two-in-one solution that has made my skin SO PRETTY!
The Products
Neutrogena® SkinClearing Liquid Makeup has natural-looking coverage, and is the first and only liquid foundation made with MicroClear® Technology, which dissolves oil and helps deliver salicylic acid to breakouts. It's great for all skin types and won't clog pores. It's breathable, controls shine, and helps clear your skin.
Neutrogena® SkinClearing Mineral Powder is an oil-free powder for acne-prone skin to treat and help prevent breakouts. It uses minerals and the MicroClear® Technology to cut through oil and unclog pores.
The Clean & Clear® Deep Action Exfoliating Scrub gently exfoliates surface skin and feels tingly and cool as you scrub. It feels pretty invigorating, actually!
Here's how I use them:
Tutorial
I'm a night exfoliator, preferring to use just a gentle cleanser in the morning, so at night, I take off my makeup and then exfoliate with the Clean & Clear® Deep Action Exfoliating Scrub.
Since I tend to break out if my skin dries up, I always slather on moisturizer before bed!
In the morning, I cleanse my skin again with a gentle cleanser and then moisturize again. When my moisturizer has absorbed, I apply Neutrogena® SkinClearing Liquid Makeup with a foundation brush, blending it into my neck.
I finish my face makeup with a few gentle swipes of the Neutrogena® SkinClearing Mineral Powder to control midday shine and set my makeup.
With this method, I've noticed my makeup lasts LONGER and my face is clearer! So happy. 🙂

Deals!
If you regularly shop at Target, the Cartwheel app is a great way to get rewards and savings at Target, and great offers during the month of August on Neutrogena® Cosmetics.
Also, at Target this weekend, get 20% off any Neutrogena® cosmetics product from Thursday-Sunday. With Cartwheel, you can save 20% on Neutrogena® cosmetics every weekend in August, Thursday-Sunday.
If you buy 3 Neutrogena® facial skincare products, you get a $5 gift card!
Finally, if you buy one Clean & Clear® product at Target, you can get one 25% off.
This post is sponsored by CLEAN & CLEAR® and NEUTROGENA®. I only recommend products I use personally and believe my followers will also enjoy! Some of the products mentioned were provided by CLEAN & CLEAR® and NEUTROGENA® for this review