This post has been compensated by Collective Bias, Inc. and AcneFree. All opinions are mine alone. #AcneFreeSummer #CollectiveBias
During summer, the last thing I want to do is go out in the hot sun with a full face of makeup. While I'm definitely one of those girls who likes to wear eyeliner at the beach (and literally everywhere I go), wearing foundation outside is a miserable experience: since I'm oily, my makeup slides off my face and I look shiny and gross. So this summer I'm going to try going without makeup for more days during the week, especially on vacation. And luckily, I just started using AcneFree.
Specifically, I've started using the AcneFree Sensitive Skin 24 Hour Acne Clearing System, a 3-step system meant to treat acne-prone skin. I've also begun using the AcneFree Daily Skin Therapy Complexion Perfecting Cream. Using these in tandem has resulted in smoother skin, fewer breakouts and red spots, and oil control, so I can skip the foundation and go natural on days where wearing makeup would be a total drag.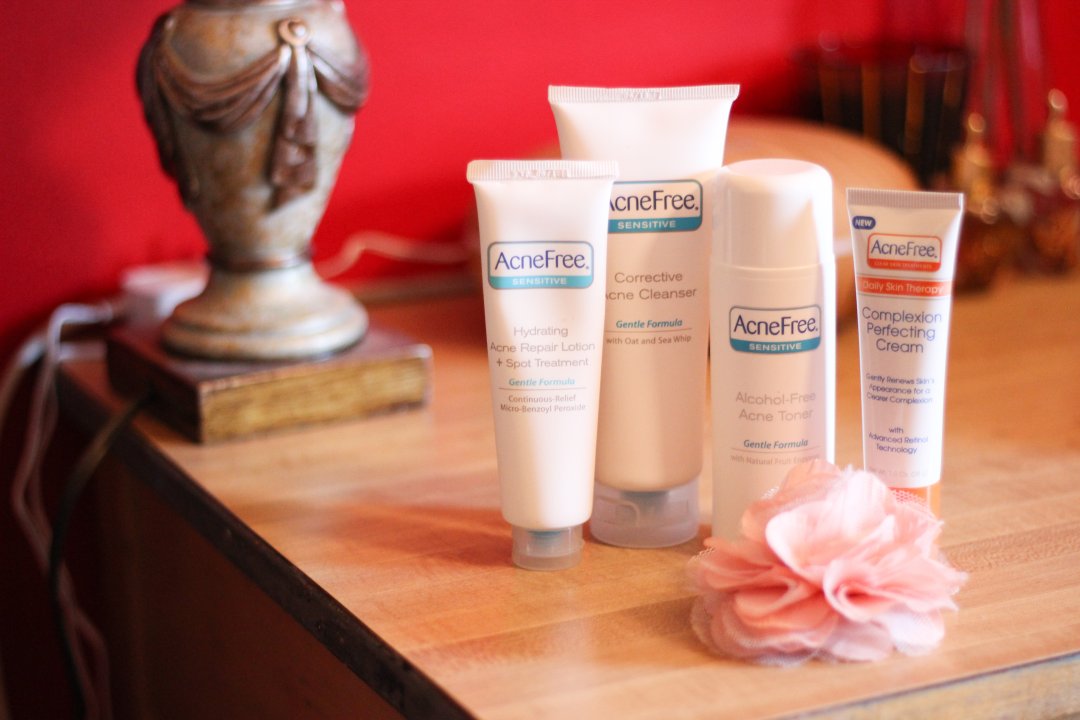 Hover over this image to shop the AcneFree line of products on Amazon, if you're looking for a way to help treat acne-prone skin!
Here's how to use it:
The AcneFree Sensitive Skin 24 Hour Acne Clearing System is a 3-step process:
Step 1, the Corrective Acne Cleanser, which gently deep-cleans to remove oil and impurities. It's gentle on skin but touch of acne, and AcneFree is the only brand that makes acne-clearing systems with Advanced Micro-Benzoyl Peroxide, which is designed to work faster and penetrate deeper into pores, without harshness and over-drying, which is excellent for someone with sensitive skin like me!
Step 2, the Alcohol-Free Acne Toner, which helps balance skin tone and remove dead skin cells with natural fruit extracts. It's calming and anti-redness, which is great because I have a touch of rosacea.
Step 3, the Hydrating Acne Repair Lotion + Spot Treatment, which offers 24 hour continuous clearing when used twice a day. This can be used on face, chest and back, or as a spot treatment.
Every other day, I'll follow up at night with the Daily Skin Therapy Complexion Perfecting Cream, which has retinol to renew the skin's surface. I started every other day to make sure the retinol didn't irritate me, and it didn't! It continuously releases retinol throughout the night, and contains skin conditioners and humectants.
The AcneFree products tie so well into my health and beauty regimen, and they're very accessible to everyone. I got mine on Amazon.
On Wearing No Makeup:
I'm a huge fan of makeup, personally. When I was about 14 I had terrible acne, and when I discovered makeup my confidence just shot through the roof, and I've worn it almost daily ever since. It's such a fun way to express your sense of self and style, and it also helps that a swipe of foundation makes my oily, pink face look smoother and more even!
I've also gotten criticism from some for wearing makeup so much, which has sometimes been kind of disappointing. I don't think it's anyone else's business, and commenting on it is just uncool. It's my choice, and I don't wear it—or not wear it—for anyone else.
Still, sometimes there are days when I feel like my natural skin isn't good enough to go makeup free, and on those days I do want to prove I don't need makeup to feel good about myself! So especially in the summer, going makeup free is a great exercise in self-love. 🙂
I hope this helped some of you out there with acne-prone skin, and if you give this system a try, let me know!